So... I've posted about 'Hood Point', and Original Webseries idea of mine, before, and tonight I was fooling around with Paint.NET and made a manip, deciding to make it one of the main families (There's 3 or 4 core families, the Fisher-Thomasino Family of this post, the Richards Family, the Rousseau Family, and possibly a 4th family, I haven't decided yet). I'm gonna try to make manips of the other families, too, but I really liked how this one turned out, and I wanted to share it and the characters with you guys.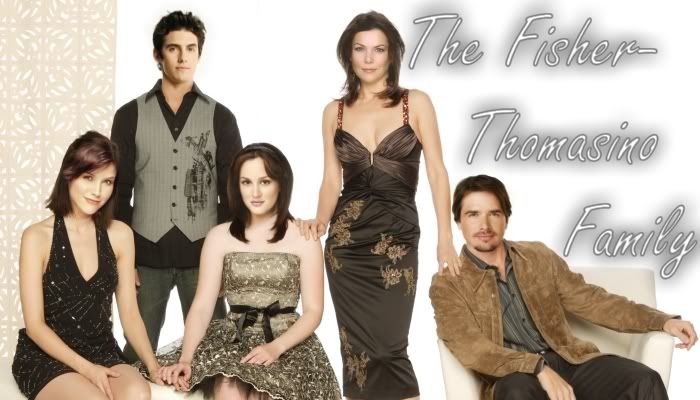 Left To Right: Juliet Thomasino, Luke Fisher, Grace Thomasino, Anna Fisher-Thomasino, and Mike Fisher.
Mike and Anna are brother and sister. Mike is a widower for the past 10 years, and isn't the best father to Luke, mostly because he fancies himself a playboy and spends more time chasing after rich women than being a dad. Anna went through a very nasty divorce a few years back, and her ex-husband has no visitation with their girls, fraternal twins Juliet and Grace, due to allegations of abuse.
Recently, Anna returned to her hometown, Hood Point, Massechusetts, with the girls following Juliet's decision to take a break from her acting career (she starred as the sweet middle sister on a family drama for the last 5 years), and immediately the family is pulled into drama. Jules is hounded by classmates who want to be her best friends because they are all her '
#1
Fan'. Grace is determined to step out of her sister's shadow and starts dating a bad boy to get the attention she wants. Anna finds herself reconnecting with her high school sweetheart, as well as attracted to her former boss at a restraunt.
Meanwhile, Mike is attempting to woo one of the richest women in town, who is fine with being 'used', since she likes being seen on the arm of a 'handsome young man' and showing up her 'friends', but she has no intention of letting Mike weasel his way into marriage and money. Luke is actually, rather pathetically, the most emotionally balanced and grounded member of his family, making him the one everyone else seems to turn to when they need advice, even though he has his own problems like a crush on a guy who's in denial about being gay.
Anna will end up paired with either David (her high school sweetheart, who now works construction), or Greg (her former boss at the restraunt she waitressed in as a teenager). Either way, she loves her girls and will do anything it takes to make sure they are okay and happy.
Mike will probably keep bouncing between rich women, but may eventually actually stop thinking Money=Life and find a nice working class girl to settle down with... or he may remain the self-centered gigolo forever.
Grace will date a complete jackass and embrace her inner bad girl for quite a while, including lashing out at her mom for favoring Juliet, and spreading nasty rumors about Jules to everyone at school.
Juliet will avoid guys for a while, nursing both a broken heart related to her last few weeks in Hollywood, and wanting to find someone that likes her and not her fame. She's really hurt when Grace reveals her biggest secret to everyone.
Luke will be juggling taking care of his family and trying to live his own life in the form of a first romance with a guy who's just starting to come to terms with being gay, something Luke himself has long since dealt with himself.
So... yeah... yay for original work! lol I think people who like my fanfics would most likely like Hood Point, because a lot of similiar style stuff (drama and angst, love and some humor) will be in it. Yes, the storylines are kind of soap opera-ish, but... come on... The OC, OTH, and Gossip Girl are/were total teen soaps! lol
Current Mood:
bouncy
Current Music: One Life To Live