A Ryan/Chuck Wallpaper! It's sized for my desktop (1366x768) so it's big... Unfortunately, I can't really size it down for other resolutions because, well, the design is made to be this long...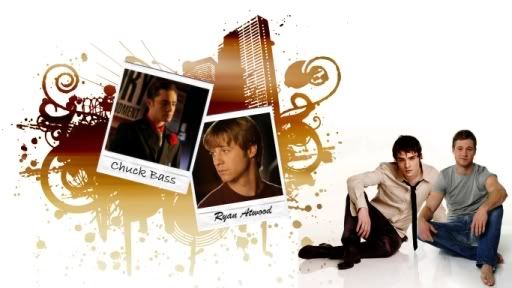 The two different fonts on the pictures is delibrately, meant to be that Ryan wrote Chuck's name, and Chuck wrote Ryan's. The pictures themselves are meant to kinda show that Ryan sees Chuck's vulnerableness, and Chuck sees Ryan's uncertainty. The manip in the corner... how perfect did that turn out? I was looking through my collection of pics, and I found the Chuck one, and immediately thought of the Ryan one and went looking for it. it jsut... fits them. Ryan relaxed in jeans and a t-shirt, barefoot. Chuck in slacks, a dress shirt, a tie, and dress shoes. They're opposite sin so many ways, and yet... they fit together.
The city collage thing is from
Obsidian Dawn
, the streaks behind it are from
Fractured Sanity
. The polaroid frame is from
Akinna-Stock
on DeviantArt.