An art related to my Ryan Troy!Verse, the NipTuck/The OC fic where Ryan is Christian Troy's son. The art takes place post-Ryan being attacked by The Carver... it's frickin' driving me crazy because I was SO sure that I'd posted the ficlet of Ryan being attacked by the Carver, but I can't find it on my journal... grrr....
But I'm REALLY proud of the manip I made... it's not perfect, but... I really like it...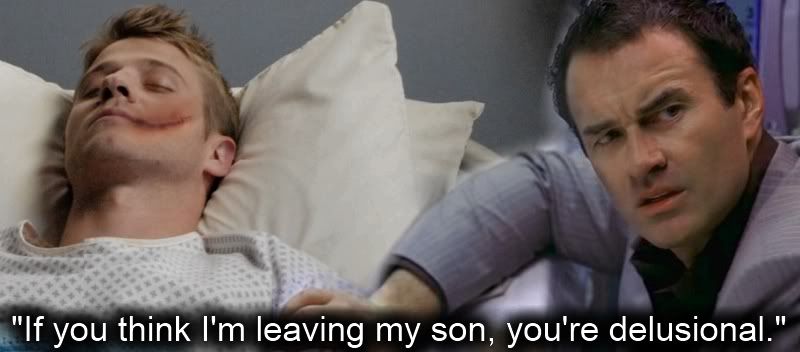 Ryan's injury isn't perfect, and there's sort of a halo of lighter colored background around Christian, but... where Christian's hand is on Ryan's arm is pretty damn good... lol
Anyway, since I can't seem to find the post with the attack... the summary is:
The Carver is a serial killer that Christian ran into in Miami. The Carver attacks people and slices their faces on either side of the mouth. He sliced Christian's best friend/business partner, Sean, in that manner, and he slit Christian's throat, as well as raping Christian. Well, The Carver shows up in LA and decides to hurt Christian by attacking Ryan and slicing his face. So Ryan (temporarily) has the scars from the attack. But of course Christian and Sean will perform surgery to fix them.
The scene in the banner is where the Cohens show up at the hospital after the attack and Sandy gets pissed at Christian, throwing the doctors words back in his face since Christian had been pissed that Sandy 'let' Ryan get shot by Oliver. And when Sandy tries to make Christian leave... well... that's where the quote on the banner comes in... lol