So. when I started watching Sons Of Anarchy, and they kept referencing Opie doing time in Chino, my brain automatically went to the idea of he and Trey being in jail together, which lead to further AU... the manip behind the cut was a result of that.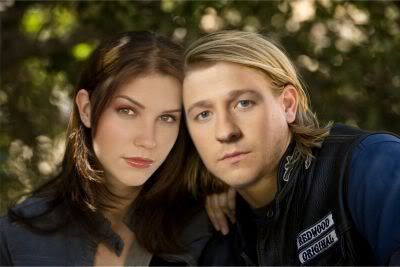 (Click for a larger version)
Before anyone comments about the hair on Ryan... deal with it. The original pic was Tara and Jax from SoA, and Jax's hair was long for the first three seasons, so most promo pics have the long hair... but I really like how this manip turned out...
The main AU idea I have for a crossover is that Trey succeeded in stealing the car in the pilot, and that his plan had been that he and Ryan were going to ditch Chino. They got as far as Charming when the car broke down, and... well... one thing led to another and trey joined the Sons, going through hell as a Prospect (with Ryan mocking him for all the crap they made him do... lol)... and Ryan becomes the unofficial little brother of the club (although he never takes relationship advice from them...) but Trey is killed, and Ryan basically says "I can't do this" and leaves for college because he just wants to get away from the violence, but he still cares about the Sons, and of course something brings him back to Charming at some point and he sticks around... I don't know for sure how Ryan knows Brooke in this universe, but... lol...
I will most likely never write it because unless I work it out better, it would seem too much like the typical Mary Sue/Gary Stu story where a character (usually an original character) is made to be beloved by all the other characters and treated like family and so on...
But part of me still wants to someday do it, because the idea of Gemma laying a verbal (and maybe physical) smackdown on Dawn for being a lousy ass mother to Ryan and Trey? Is a mental image I love...