Jessica made another request,
#17
in the universe of
this
(I assume... it's the only The OC/Vampire Diaries I've written, and it is vaguely slashish for Ryan/Damon... there's innapropriate flirting...) This one kinda makes it even more innapropriate, since we see Damon interacting with Ryan when he was little, right after Damon and Stefan saved Ryan from getting killed by the evil vampire. To be clear, Damon is NOT flirtatious or at all innapropriate with little Ryan, he's actually kinda sweet and big brother-ish, like he was with Stefan in the TVD flashbacks taking place before they were turned. But since it shows how young Ryan was when they met, it makes the later flirtation 'worse' for lack of a better term.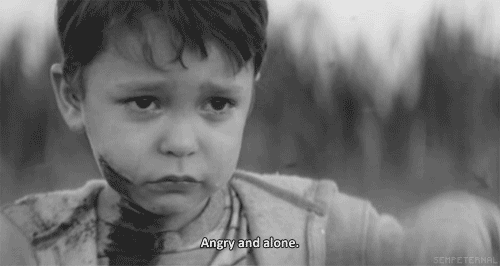 Pick-A-Prompt Fic - "The Kid" - Prompt #17
When it was over, when George was dead and Stefan was figuring out how to dispose of him, Damon turned to the little boy who was standing nearby, covered in both his own blood and his brothers. Damon slowly walked over and crouched down. "It's okay, you're safe," he said.
"He killed Trey," the little boy said, looking over at his brother's broken and drained body.
"I'm sorry we didn't get here in time," Damon said. "But I know for a fact he'd be really happy we got here oin time to save you."
"How do you know?"
Damon smiled sadly and gestured over at Stefan. "See that idiot over there? That's my little brother. If it was choice between someone saving me or saving him? I'd want them to save him." he paused, looking back at the boy and leaning in close. "But don't tell him I said that, way too girly to say, you know?"
The boy nodded. "Okay."
"What's your name?"
"Ryan."
"Okay, Ryan. We're gonna take you home now, okay?"
"Ma's gonna be made. George got her the medicine..."
"Medicine?" Damon asked. "What medicine?"
Ryan shrugged in that confused way little kids do. "I don't know. She gets it ready with a spoon and a candle... it smells yucky..."
Damon's expression hardened. "Did she know that George was gonna take you and trey somewhere?"
Ryan shrugged again. "But she knows about the girls. She helped him find them."
Damon's jaw clenched. He figured there were a lot more victims than just the two brothers, but he had held out hope that the little boy had no clue about them. Instead, not only did he know, but his mother was part of it. "Where are the girls now?"
"In our basement."
Damon nodded. "Come on, we're taking you home," he said, picking Ryan up. "Stefan. We're not done."
~~~
"When the police show up later, you're going to tell the police everything about what George did, and how you helped him," Damon said, his eyes locked on Dawn's. "You're going to tell them how you let your sick freak of a boyfriend take yours sons to kill them, all because you wanted the drugs he gave he. And you are going to willing give up all maternal rights to Ryan. Do you understand?"
"Yes," Dawn said.
Damon nodded and got up, glancing at Stefan. "Give me a minute before you call," he said, waiting for his brother to nod before he headed back to the bedroom where he'd left Ryan earlier. The little boy was half asleep, and Damon crouched down by the bed. "You'll be okay, Ryan. No one will ever hurt you again. If they ever do, I will find out, I will come back, and I will make them pay."
"You're leaving?"
'"Don't worry, I'll check in soemtimes, okay?"
Ryan nodded. "Okay." He frowned, tilting your head. "What's your name?"
"Damon Salvatore. The idiot out there is my brother Stefan."
Ryam smiled slightly, sad and pained. "Bye," he said.
"Bye," Damon agreed, rubbing a hand over Ryan's head and pulling the covers up over his shoulders. He waited until the exhausted boy fell asleep, then got up and walked back to the living room, where Stefan was standing by the cellar door, looking disgusted. "What?"
"There's a half dozen girls down there, all dead, looks like they were drained.
"You put Trey and George down there?"
"Yeah," Stefan said. "The thing is, who's going to take the fall for killing George?"
"Who cares?" Damon said, then rolled his eyes and walked over to Dawn. "Tell the cops one of your dealers stopped by and heard screams downstairs. He forced his way into the basement, saw what George was doing, and killed the asshole. He brought Ryan up and put him to bed, then called you a fucking psycho bitch and walked out. Stole all the money George had laying around, too. You got that?"
"Yes."
The End
I kinda like this... lol...